Home • About Us • Public Library • School District • Events • History • Directions • Photos • Contact Us
Government • Attractions • Organizations • Environment • Weather
The new, long-awaited Route 865 realignment highway bridge opened for business in September 27, 2002. This project elimiated the old "Bridge Hill" located two blocks southwest of here and was also augmented by a new footbridge almost four blocks away. Immediately upon completion of the new version, dismantling of the old one began (see below).
Bridge Construction in Progress • Back to Miscellaneous Photos • Route 865 Realignment map • Musical Houses • Footbridge Construction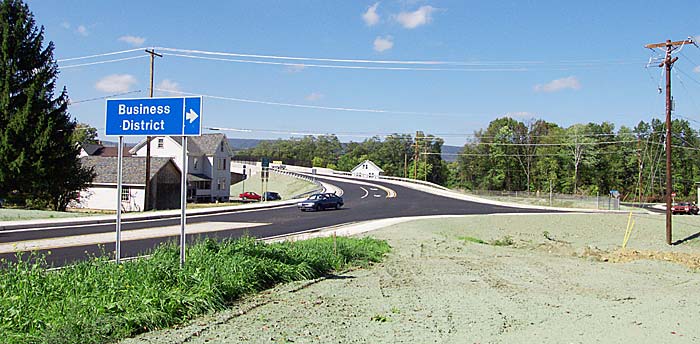 September 2002 — Looking northwest you can see the eastern approach to the new bridge as it sweeps up to the left and over Norfolk Southern's three mainline railroad tracks. The access ramp to Main Street can be seen coming off to the right and down to a stop sign. A left turn from there leads under the new span and southwest into town. The house visible in the center of the photo and the one just under the "Business District" sign were moved from their original sites and relocated to accommodate the project. For a view of this same scene during construction, click here.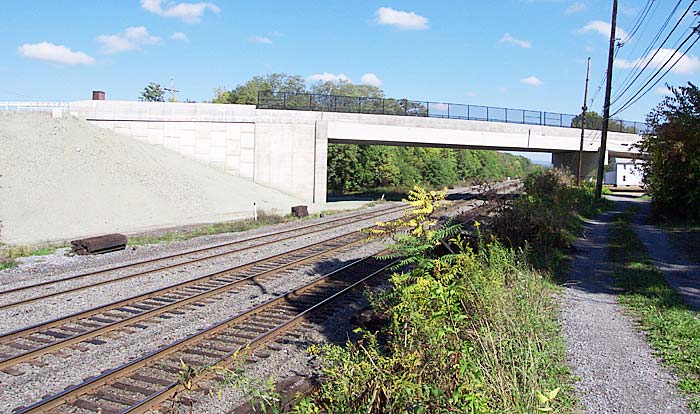 This view was taken from the alley behind the public library and is looking north on the mainline toward Fostoria.

A day or so after the new bridge opened for traffic it's predecessor (alais, the "Bridge Hill") was the scene of heavy equipment that immediately began clawing at it's 50-year-old surface. Within two weeks the majority of it had been removed.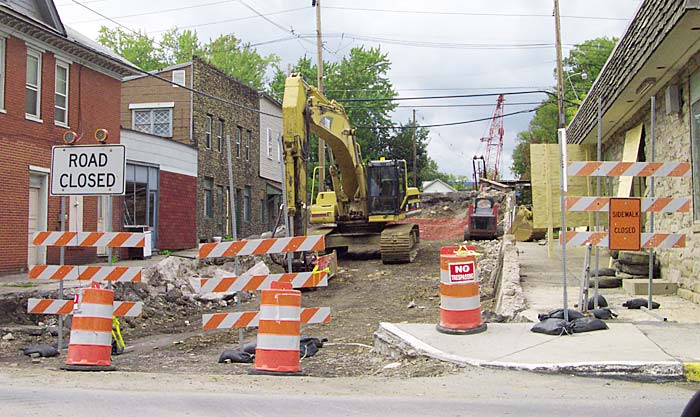 Here much of the fill between the two thick, cement retaining walls has been removed.

With the span removed, the original stone abutments dating back to around the turn of the century await dismantling. At last word the large stones will be salvaged and used in some capacity at the recreational park.
Bridge Construction in Progress
Project Photos by Contractor: Rt. 865 Bridge • Footbridge
Back to top of page • Back to Miscellaneous Photos • Route 865 Realignment map • Musical Houses • Footbridge Construction