Home • About Us • Public Library • School District • Events • History • Directions • Photos • Contact Us
Government • Attractions • Organizations • Environment • Weather
Taking advantage of the mild autumn and late 2001 winter, work crews have achieved considerable progress on the new footbridge spanning the Norfolk Southern mainline. The project is situated about one block southwest of the current "Bridge Hill" and is slated to be completed sometime in 2002. An artist rendering of the finished structure appears at the bottom of this page. Work on a new highway bridge will be commenced in the spring a block northeast of the current Route 865, streamlining the road's alignment through the borough. It is expected to be put into service by November 2002.
Back to Footbridge Progess • Footbridge Archive #2 • Back to Miscellaneous Photos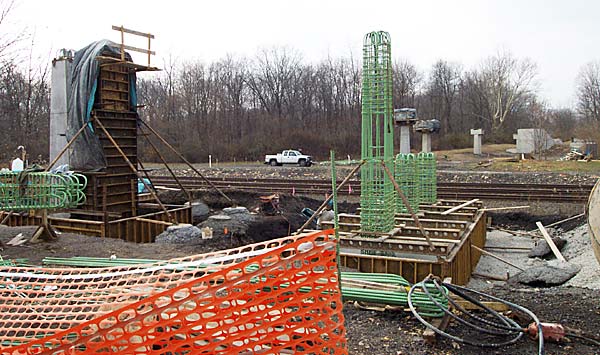 Back to top of page • Back to Footbridge Progess • Footbridge Archive #2 • Back to Miscellaneous Photos
Home • About Us • Public Library • School District • Events • History • Directions • Photos • Contact Us
Government • Attractions • Organizations • Environment • Weather