Bells Gap Rails-to-Trail
Ribbon-Cutting Ceremony • Sunday, July 8, 2007 • 5:00 p.m.

The Bells Gap Rails-to-Trail was officially opened with this ribbon-cutting ceremony held at the southern trailhead/parking lot. From left: Larry Bilotto (PennDOT), John Frederick (Vice President, Bellwood-Antis Rails-to-Trails), Mary Emeigh (Secretary, Rails-to-Trails of Central PA), Hazel Bilka (Secretary/Treasurer, Bellwood-Antis Community Trust), Ray Amato (Antis Township Supervisor), Sam Cottle (trail contractor) and Cory Gehret (Project Engineer, Stiffler, McGraw & Associates).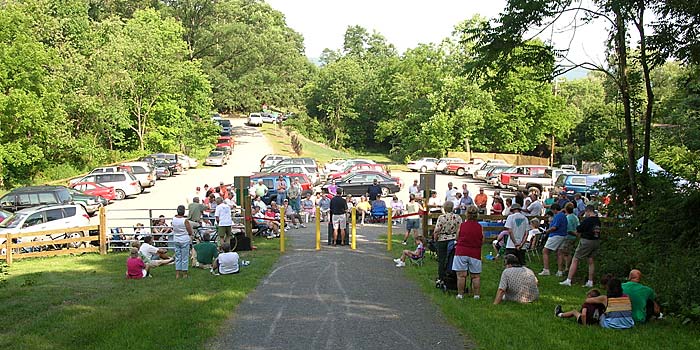 A large group of trail enthusiasts attended the ceremony demonstrating tremendous
interest in the new walking/hiking/biking/horseriding venue.
Trail Photos

A spacious and and attractive parking area greets the trail-user just a few hundred yards off of Route 865.

Looking south toward the trailhead.

Several places the trail is shared with nearby landowners. Trail visitors are asked to respect
folks who live near the trail and leave no physical or audible sign of your passing through.

One can only imagine what a standard-gauge steam locomotive might have looked
like chuffing up the Allegheny Front with a string of empty coal hoppers.

A modest view of the Bellwood Reservoir is available through the trees
about three-quarters of a mile north from the parking lot trailhead.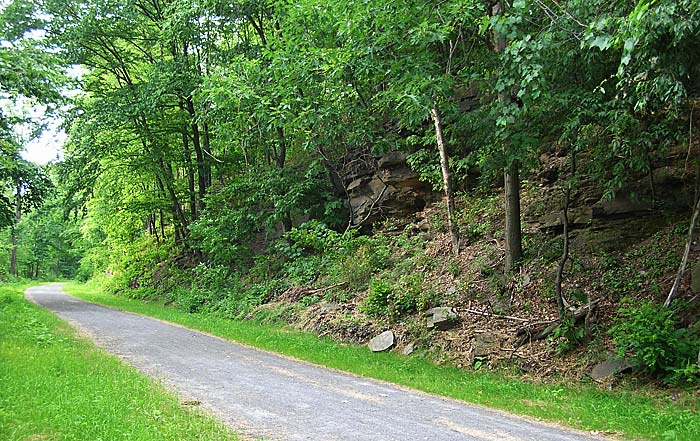 Most of the trail is perched up on the steep sidehill comprised in many places of solid rock outcroppings.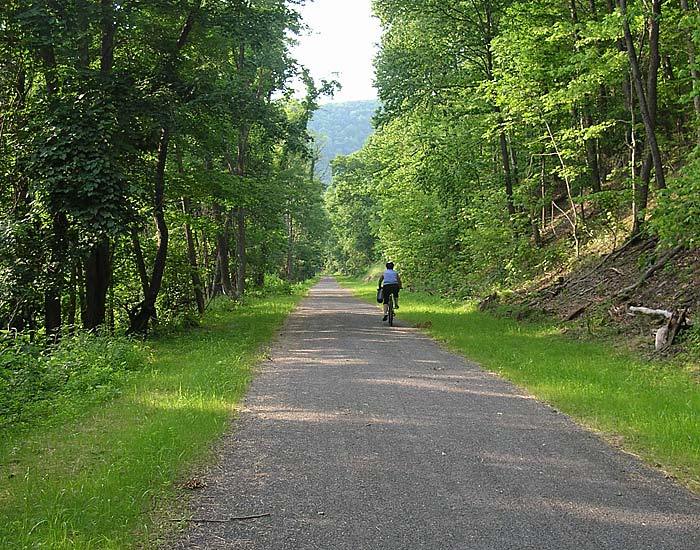 A biker pedals uphill on one of the quarter-mile straight stretches. The northwestern
side of Collier Hollow is visible between the trees directly above the trail.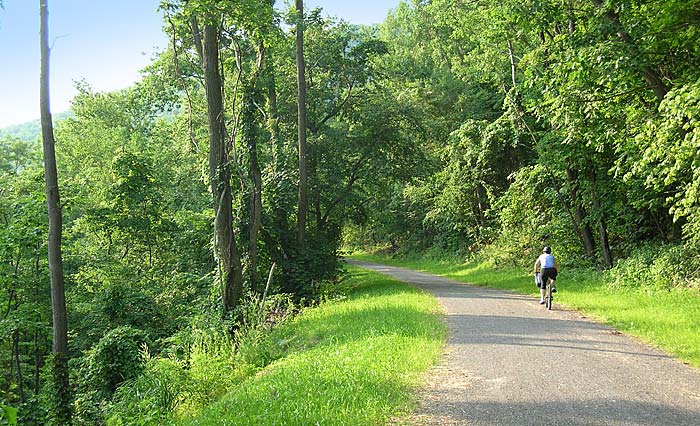 While a great deal of shade is evident, sunlight still makes its way through along the two-mile trail.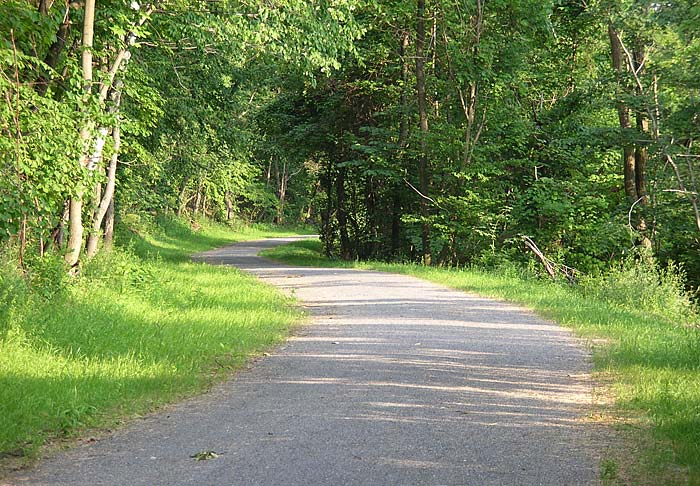 An "S" curve looking south into Colliers Hollow near the current northern terminus.

One of several mountain vistas along the trail.

The current end of the line, just north of Collier Hollow. To the left, one can walk to the
edge of the railroad bed and catch downstream glimpses of the Bellwood Reservoir.
Visit the Bellwood-Antis Rails-to-Trails page.
*****************************************************************